PowerZook
Power Sensor with PoE for Data Centres & Server Rooms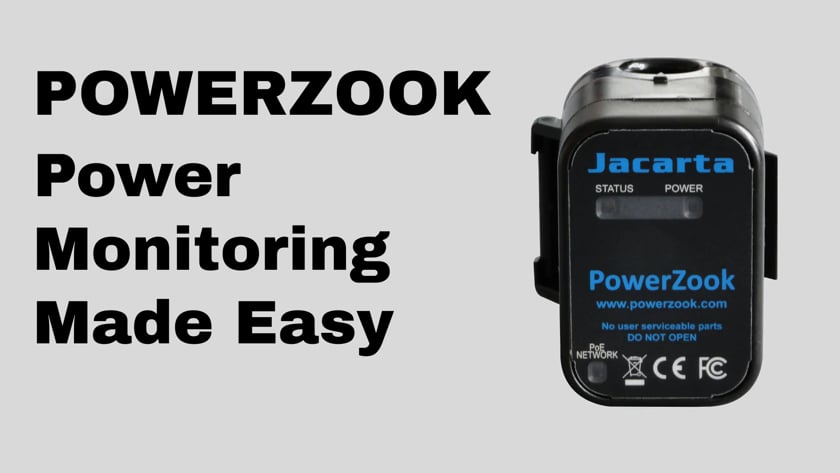 Power usage of 16A/32A basic & metered single-phase PDUs and IT racks can now easily be tracked with PowerZook; a cost-effective, non-invasive, power monitoring sensor that provides power data via SNMP. PowerZook can be installed without system downtime and simply clips around the outside of PDU input cables to monitor the power draw for loads of up to 32A. PowerZook provides a smart alternative to smart PDU's where system downtime and/or higher costs are not viable options.
By providing users with power information down to rack level, PowerZook can play a vital role in helping to increase operational efficiency and reduce data centre energy costs. Power usage visibility for rack equipment can be provided where currently there is none.
Use PowerZook to identify:
Why PowerZook?
The huge challenge facing today's Data Centre Managers is not only how to maintain system services and uptime on a 24×7 basis, but also how to achieve those goals whilst increasing efficiency and minimising costs. Installation of intelligent PDUs into legacy data centres is an obvious long-term power monitoring option, but upgrade/disruption considerations during the current pandemic, downtime costs and potential budget constraints may make this option impractical in the short term.
PowerZook provides a unique, alternative option to intelligent PDUs, giving Data Centre Managers greater choice when determining their power monitoring and management strategy. Since PowerZook can be installed into live environments, integration into an SNMP-based network or power management system can be completed with minimum fuss and minimal costs.
PowerZook is an unobtrusive, robust and durable sensor. Once installed, it is maintenance-free and, in the unlikely event that a swap-out is ever required, there will be no disruption to the network or power to the rack.
PowerZook - Quick and Easy Installation
PowerZook is installed onto the cable that it will be monitoring and configured using a simple laptop or netbook-driven browser interface. This software helps the installer to quickly calibrate the sensor on the cable. Advanced configuration can be carried out at that time or via the network. Once installed, PowerZook will make power usage data available to network management systems via SNMP and the web-browser interface. Power usage information delivered by PowerZook can be compared and analysed over time so that rack power can be managed as efficiently as possible.
Delivers power usage information via web-browser interface & SNMP
No downtime required for installation so can be installed in live environments
Facilitates identification of low power/power fail & near-overload/overload conditions
Compatible with SNMP-based Network Management Software
Assists with ISO50001 and ESOS compliance
Web browser interface for configuration and remote connectivity
Suitable for monitoring 3-core (live, neutral, earth) input power cables up to 32A (see specifications for full details)
PoE for easy network integration
Small, light, unobtrusive
Maintenance-free
What is PowerZook?
PowerZook is a non-invasive power sensor that can be installed on single-phase, 2 & 3-core cables without system downtime (or the need to unplug equipment) to provide power usage readings via SNMP and the web-browser interface.
I know it's possible to monitor live-only single phase cables using a traditional current clamp, but isn't it impossible to monitor single phase 2 and 3-core cables using this method?
Traditional CT current clamps that are clamped around 2 and 3-core cables will provide a reading of zero (or close to zero) due to the cancellation effect caused by the same current flowing in opposite directions through the live and neutral wires. But the PowerZook has been designed to overcome the cancellation effect to provide current readings on 2 & 3-core 16/32A single phase cables.
Do I need to modify the power cable I wish to monitor?
No - you do not need to modify/cut/isolate the live wire in order to install the sensor.
Is downtime required for installation?
No - downtime is not required for installation.
Can PowerZook be used to help monitor power in Smart Cities and Buildings?
Yes, PowerZook is ideal for acquiring power usage information where it has been traditionally difficult to do so, eg. hard-wired single phase cables or dumb power strips/PDUs that can't be disconnected due to the resulting system downtime.
Why does PowerZook use True RMS monitoring?
True RMS monitoring devices and sensors are the preferred choice in data centre environments due to their increased accuracy (compared to Mean Average monitoring) when measuring distorted waveforms typical of those found in IT Environments.
What cable types/sizes can be used with PowerZook?
2.5mm² and 4.0mm² core cable up to 13.6mm in diameter. Please refer to literature for detailed cable information.
What information can be obtained from the PowerZook?
Current (Amps - true RMS) and indicative Watts are the key metrics.
Can the PowerZook be used on 13A cables?
A new 13A PowerZook for use with smaller cables is due to be released shortly.
How do you configure PowerZook?
PowerZook is configured via its web-browser interface. Calibrate the device on the cable using the calibration tool & enter the network settings.
How is the PowerZook powered?
The sensor is powered via PoE (IEEE 802.3af).
How do I configure the PowerZook if I can't easily connect to a PoE switch beforehand?
A Jacarta PoE injector is available so that the sensor can be powered via any USB port when configuring the device with a notebook/laptop. Once configuration is complete the device is powered using a PoE network switch.
Is any ongoing PowerZook maintenance required?
No - ongoing maintenance is not required.
Can the firmware be updated by the user?
Yes. Firmware can be uploaded quickly and easily via the network using the PowerZook's web-browser interface.
Why use a PowerZook as opposed to a smart PDU?
The PowerZook can be installed into any environment without disconnecting power and can be used with existing PDUs minimising both network downtime and cost.
Does PowerZook present an additional point-of-failure on the network?
No. As the PowerZook is not an inline device it does not introduce an additional point-of-failure to your critical network systems and, in the unlikely event of a failure, a replacement sensor can be installed without any disruption.
How can the PowerZook be powered if I don't have a PoE switch?
It is possible to use our PoE Injector to permanently power the PowerZook. Small PoE hubs can also be used.
Can the PowerZook work independently of an NMS?
Yes. Power usage readings can be obtained from the web-browser interface. For ongoing monitoring, logging and alerting we would advise using an SNMP monitoring platform.